The Sobo, Katamuki, and Okue range stretching over Oita and Miyazaki prefectures are a treasure trove of rare flora and fauna, with unique landscape beauty such as steep rocky peaks, numerous valleys, and untouched nature.
The people around the Sobo, Katamuki, and Okue range have long lived with respect for this rich nature while cherishing nature's blessings. The municipalities (Oita Prefecture, Saiki City, Taketa city, Bungo Ono City, Miyazaki Prefecture, Nobeoka City, Takachiho Town, Hinokage Town) of this area have been working together to promote the registration of the Sobo, Katamuki, and Okue Biosphere Reserve so that the development of this area will continue with nature and people coexisting.
In June 2017, the UNESCO MAB Plan International Coordinating Board determined the area to be registered.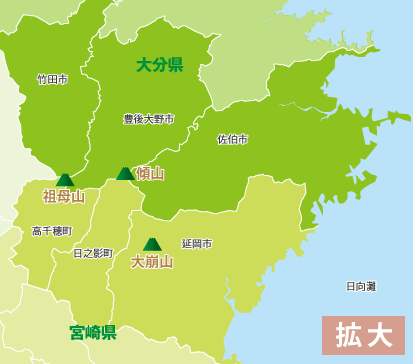 Formal name:Biosphere Reserves
The Biosphere Reserve is a project started by UNESCO in 1976 to harmonize the conservation of ecosystems with sustainable utilization.
The principle of "World Heritage" is to protect untouched nature. However, Biosphere Reserve aims for nature and human society to coexist.
There are a total number of 669 registered areas in 120 countries. (As of June 2017)
The revitalization of regions

by strengthening information dissemination capabilities both domestically and internationally

Improving brand value

by accrediting world standards
To utilize as a

base for environmental education and research
And others
"UNESCO Eco Park" is the domestic name
And is called "BR: Biosphere Reserves" overseas